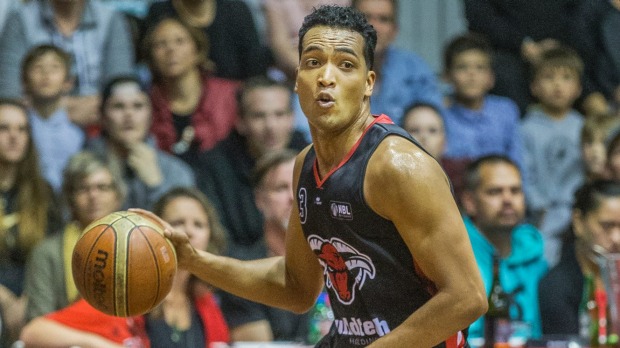 Article by The Press
Man of the match Marcel Jones says the Canterbury Rams "wanted to be aggressive" and they got their reward with a rebound 106-89 National Basketball League win over the Bay Hawks.
The Rams were stung by a 10-point home loss by the Nelson Giants last Friday but borrowed a leaf from their South Island rivals' book when they travelled to Napier on Sunday.
Jones, who scored a game-high 39 points to retain his place as the league's premier average points scorer, said the Rams had been determined to bounce back from the Nelson setback.
"It's always a good opportunity to try and right the wrong," Jones told Basketball New Zealand's online television channel after the Rams returned to a .500 5-5 win-loss record.
Nelson came in aggressive and that was our mindset [against the Bay Hawks]. We just came in and wanted to be aggressive, and we were able to do that."
Jones, a 2.03m forward in his third season with the Rams, played down his own individual scoring efforts, saying: "You never go into a game worrying about that, it was just the flow of the game tonight.
"We were able to get out and transition. We played pretty decent defence tonight.
"But we will get back to the drawing board and get ready for Southland."
Jones also grabbed 10 rebounds, and Jeremy Kendle contributed 27 points for the Rams .
Captain Ethan Rusbatch added 20 points for Canterbury, who led by as many as 23 against the Hawks who dropped  to 1-7 after a second straight loss.
Joshua Fox scored a team- high 21 points for the Hawks, who have struggled at home this season, winning only one of seven.
The Rams will have a week break before they play a tough road double-header against the Southland Sharks on May 5 and the Taranaki Mountainairs on May 7.
The next home is is May 14th against the Southland Sharks at Cowles Stadium. Get your tickets here – https://nz.patronbase.com/_RAMS/Productions
For Full Article on Stuff, click here: http://www.stuff.co.nz/the-press/sport/91908537/Aggressive-Canterbury-Rams-rebound-over-Bay-Hawks-as-Marcel-Jones-stars
---