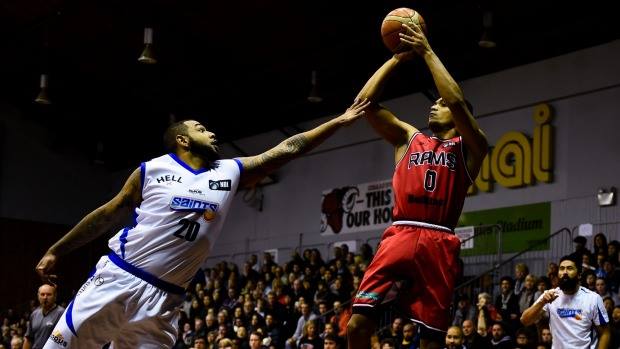 Article by ROBERT VAN ROYEN
What more must one do to get a shot at the ANBL?
That's the big question for Canterbury Rams forward Marcel Jones, who is putting together another impressive National Basketball League (NBL) season.
A year after being named the most valuable Kiwi player in the NBL, the 31-year-old is playing at an even higher level as the 6-6 Rams prepare for a five-match home stand.
Jones is averaging a league-high 25.4 points per game with Wellington Saints guard Corey Webster, while he is also in the top bunch in rebounds (9.9 per game) and two-point field goal percentage (61.6 per cent).
But playing at an MVP level hasn't resulted in his phone ringing hot with Australian national league coaches on the other end.
"I don't know what else I've got to do," Jones said.
"I would really like to play in the ANBL, but I understand there are not a lot of teams and there are a lot of guys vying for not many spots.
"It's a daily grind. Just get back to the gym, work out and let the basketball gods work."
The American-born forward, who has been a New Zealand citizen since 2013, has played all over the world during his career, including a stint in Syria in 2010-2011.
Most recently, he played for the Helios Suns in Slovenia, before using an out-clause in his contract to return to Christchurch for another shot at winning the NBL.
"We'll see how it shakes out," Jones said.
If I have to go back to Europe, so be it. But I really feel like I can help in the Aussie league, but it's not up to me."
In the meantime, Jones has redemption on his mind ahead as the playoffs quickly approach.
He hasn't got the bad taste out of his mouth from last year, when the regular-season champion Rams bowed out in the semifinals with a limp performance against the Supercity Rangers.
The third-placed Rams will play the 8-3 Southland Sharks at Cowles Stadium on Sunday afternoon, in what is a rematch of last Friday's match in Invercargill, won 105-94 by the home side.
Canterbury bounced back to beat Taranaki a couple of days later, and needs to start stringing some wins together in order to hit the playoffs with momentum.
With American import McKenzie Moore and centre Mike Karena re-joining the team last week, Jones accepts the team is still searching for cohesion.
"It takes time to introduce new things and to get people on the same page. It's just a work in progress, but we'll be ready when it counts."
The second match of the Rams' home stand is against the 3-7 Bay Hawks next Saturday, before they get another shot at the Sharks the following week.
They'll then host the 3-9 Taranaki Mountain Airs and 3-9 Nelson Giants next month, and wrap up the regular season on the road against the 5-5 Supercity Rangers on June 10.
"We've just go to end it the right way," Jones said. "This is the money time."
Full Article from Stuff click here http://www.stuff.co.nz/sport/basketball/92476828/canterbury-rams-forward-marcel-jones-chasing-anbl-contract
---