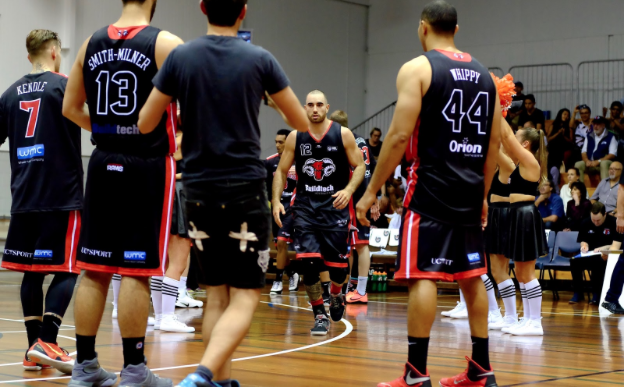 Article by George Berry
After falling short in their brutal battle against the undefeated Wellington Saints last weekend, the Canterbury Rams will be playing in front a loyal Cowles Stadium crowd this Friday when they take on the Taranaki Mountainairs.
Heading into Round 5 action for the NZNBL, The Rams' record is 3-3, earning them second place on the standings. They have displayed many moments of brilliance that will threaten any team going forward in the competition. They will hope they can put on a show to cement their place in the top 4 for another week.
Despite losing last Saturday, the Rams put up over 100 points, with players such as Marcel Jones, Jeremy Kendle and Ethan Rusbatch continuing to be the 'big-3' for the team's offense. In the overall NZNBL season stats, Jones sits second in most points on average with 24.2, and Kendle falls just below him at third with 23.8. Jones also ranks top in total rebounds on the season with 58 in the 6 games played.
Rams Captain Marques Whippy will hope to continue his run of form to produce a stacked stat-line for this weeks game, coming off a very solid 7 point, 9 rebound and 7 assist performance against the Saints. Whippy praises defense weekly, and will be putting pressure on his team mates to shut-down the Mountainairs' offense early to assure their dominance in the match.
The Mountainairs will be looking to eradicate any chance of Rams guard Marcus Alipate getting the ball is in hands, as he leads the league in three point percentage with a world-class 50%. To know that Alipate is making half his shots from behind the line will be extremely pleasing for Coach Mark Dickel, who will be excited to return home and continue his work of becoming one of the strongest sides in this years competition.
When it comes to devising game day strategies for Dickel and his coaching staff, he will realise the Taranaki Mountainairs can't be overlooked, sitting just below the Rams in third place with an identical record. All players have been contributing well for the Taranaki based side, led by Captain Aaron Bailey-Nowell. Nearly half the squad are local players, bringing a strong essence of team chemistry to games.
Taranaki's import player Daniel Gomis leads the league with the best rebounding average of 10.6 per game, and will be a massive threat for the Rams as he will hunt for second chance points on the offensive end. Xavier Shaw has returned to his hometown of Taranaki after spending two seasons playing for Canterbury and will be a familiar face to some players in the home side. Shaw will hope to use his knowledge of Cowles Stadium not only for his own advantage, but his team-mate's too.
Mountainairs Head Coach Trent Adam will be travelling to the Garden City for the first time as the head-honcho of the Mountainairs. Adam was assistant coach last year and has since been promoted to the top job. He will be joined at the bench by Assistant Coach David Bublitz.
The game falls on Good Friday, a public holiday. It means there is no excuse for fans of basketball in Christchurch to head down to Cowles Stadium for what will be another high-octane game of basketball as the Rams search for their fourth win.
The Rams will look to bring the Mountainairs back to earth when the game tips off at 7pm.
Tickets can be brought here: https://nz.patronbase.com/_RAMS/Productions
Rams Partners
2017 Canterbury Rams Team Roster-
#0 Rambo
#1 Marcus Alipate
#2 Quinn Clinton
#3 Marcel Jones
#6 Hamish McDonald
#7 Jeremy Kendle
#8 Mike Karena
#12 Ethan Rusbatch
#13 Tohi Smith-Milner
#23 William Neighbour
#25 Derek Albertsen
#34 Gareth Dawson
#43 Ben Williams
#44 Marcus Whippy
Head Coach – Mark Dickel
Assistant Coach – Ben Sheat
Assistant Coach/Performance Analyst – Piet Van Hasselt
Manager/Strength & Conditioning – Grant Robertson
Physio – Lidia Belles Escrig
Taranaki Mountainairs Squad 2017.
#0- Jarryd Gerrand
#2- Beauden Giddy
#3- Daniel Gomis
#4- Brayden Inger
#5- Xavier Shaw
#7- Houston O'Riley
#10- Dane Brooks
#11- Lachie Fenwick
#12-Brad Anderson
#14- Alonzo Burton
#20- Thane O'Leary
#21- Tylor Ongwae
#22- Aaron Bailey-Nowell
#30- Matthew O'Connell
---