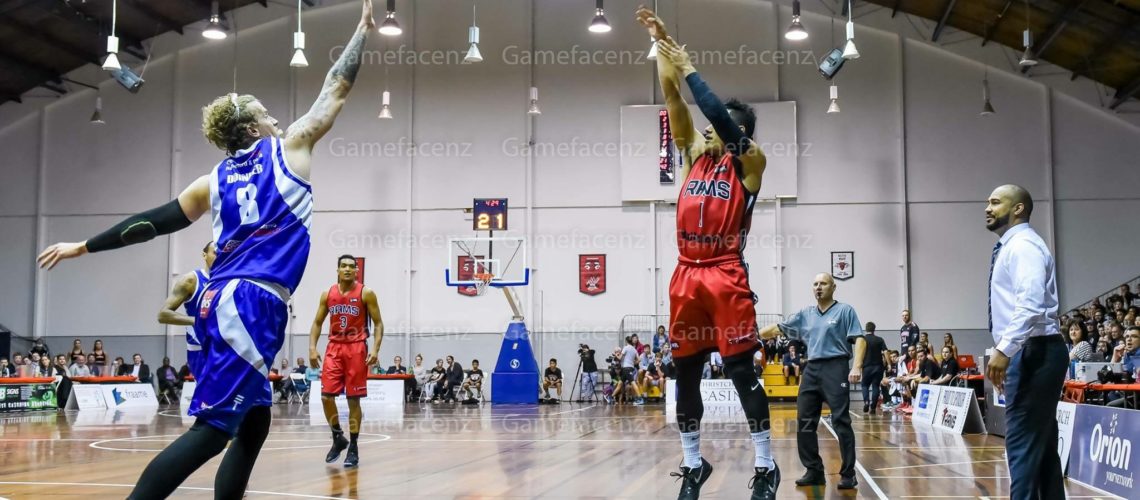 If the red-hot Rams thought their last meeting with the Wellington Saints was tough, they will have to think again ahead of this Saturday's clash with the unbeaten side.
The Canterbury Rams will travel to the capital to go to battle with the Saints. For both sides, the match will be filled with the usual competitiveness and the chance for the Rams take home the Gordon-Huntley Trophy. The Rams missed out on getting their hands on the trophy after losing their first home game against the Saints on March 23rd 95-84.
Both teams won their last matches, and know the importance of this game going forward in the NZNBL standings for the season.
Rams Captain Marques Whippy said defensive intensity will be the key to bringing a win back to Christchurch.
"We need to stick to our defense and our rules on offense, if we can do that the rest will take care of itself," he said.
Marcel Jones, Rams Forward and reigning NZNBL MVP has been unstoppable in his last two games, and there is no doubt that the Saints will be looking for any possible way to stop him from taking over the game with his quick reflex's at the offensive and defensive end which help fill up his game statistics.
Ethan Rusbatch has proven his ankle injury is clear after a very impressive game last Friday, scoring 9 points. Rams coach Mark Dickel says having Rusbatch on the floor provides a great balance to his squad, and will hope this can be a factor in trying to get a win away from home.
Defensive anchor and Rams skipper Marques Whippy will be using his leadership and veteran presence to control his squad on both ends. The offensive weapons in the Saints such as Leon Henry who have been playing for many years will need to be stopped early in the game if the Rams are to take home the win back to Canterbury.
Rams guard Marcus Alipate said the Rams will be viewed as the underdogs going into the game, and they will use this to their advantage as they play their unique style of basketball.
The Rams know the Saints squad and what each player brings to the floor, but their is no doubt they will bring new challenges to this Saturday's match after convincing wins in all 4 of their games so far. The Wellington based side is packed with former and current New Zealand representatives as well as players from the Breakers and Australian Basketball teams.
New Perth Wildcat guard Corey Webster is sure to continue his hot offensive run this Saturday, coming off a 33 point effort against the Hawkes Bay Taylor Hawks. Webster is a veteran for the Tall Blacks as well as a one-time trialist for NBA team New Orleans Hornets.
After their last matchup in Christchurch, Saints Coach Kevin Braswell said the Rams are a guaranteed top 4 side in the competition, but did not have the same level of team chemistry as his side did.
He added that if they were to improve on this, they would be an incredibly tough side to beat. It seems as though the Rams have done this after a strong win against the very high-class Supercity Rangers side last Friday.
Rams Coach Mark Dickel added post-game that their defense needed some work, and there is no doubt that since he made these comments last month that Whippy and his side have made very noticeable changes to their system.
The game tips off at TSB Arena in Wellington at 7pm.
For those in Christchurch worried about missing the game, you can watch all the action unfold through this live stream:
Rams Partners
2017 Canterbury Rams Team Roster-
#0 Rambo
#1 Marcus Alipate
#2 Quinn Clinton
#3 Marcel Jones
#6 Hamish McDonald
#7 Jeremy Kendle
#8 Mike Karena
#12 Ethan Rusbatch
#13 Tohi Smith-Milner
#23 William Neighbour
#25 Derek Albertsen
#34 Gareth Dawson
#43 Ben Williams
#44 Marcus Whippy
Head Coach – Mark Dickel
Assistant Coach – Ben Sheat
Assistant Coach/Performance Analyst – Piet Van Hasselt
Manager/Strength & Conditioning – Grant Robertson
Physio – Lidia Belles Escrig
Wellington Saints Roster
Saints
#0 Shea Illi
#2 Isaac Leota
#3 Jackson Stubbins
#4 Nico Buckrell
#6 Theo Johnson
#7 Damien Ekenasio
#8 Josh Duinker
#9 Corey Webster
#10 Jordan Mills
#11 Jordan Ngatai
#15 Leon Henry
#20 B.J Anthony
#21 Elliot Stubbins
#42 Tai Wesley
Head Coach: Kevin Braswell
Assistant Coach: Zico Coronel
Team Manager: Phil Hartley
Written by George Berry.
---