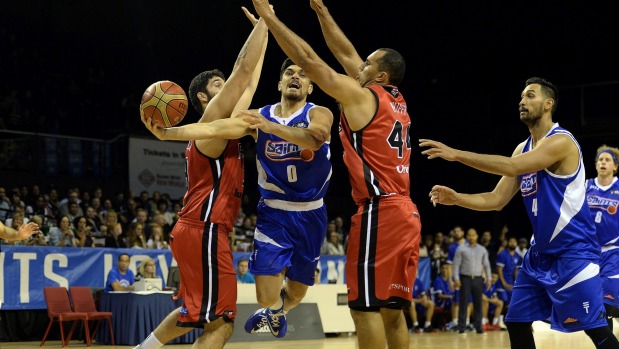 In Wellington, despite a courageous effort and flourishing offense, the Rams couldn't make it over the line losing to the Saints 114-104.
Despite the loss, the top team in this year's competition were still unable to shut down the reigning NZNBL MVP Marcel Jones who led all scorers in the game with a stellar 32 points.
Canterbury managed to be within two points at halftime, but Wellington had their biggest quarter of the season scoring 39 points to hold a 13-point leading going into the fourth.
Jeremy Kendle continued his red-hot form, adding 26 points to the scorecard. Captain Marques Whippy had yet another consistently solid game. He showed his capabilities on both the offensive and defensive end, scoring 7 points, grabbing team high 9 rebounds and dishing 7 assists. Ethan Rusbatch also added 18 points, 12 of those coming from behind the three-point line where he shot an efficient 44%.
The Rams had three players score in double-digits in comparison to the Saints' six, and League leading scorer Corey Webster had his third straight thirty plus point game with 31 points.
The Saints punished the Rams inside the paint, scoring 20 more points in the area. However, the Rams outrebounded the undefeated side, out-scored them in second chance points and had more bench production. While Mark Dickel and the Rams have things to work on, they will be pleased with the effort they brought to the defending champions' home stadium last night.
The Rams now have a 3-3 record for the season. They will continue to fight for a playoff spot with the Rangers, Sharks and Taranaki Mountainairs who each have three wins.
Coincedently, the Rams will face the Taranaki Mountainairs for the first time this season in their next match. It will be their third home game of this year's NZNBL competition and falls on the public holiday, Good Friday.
A preview for the game, played next Friday 14th April will be available to read this Wednesday.
Game Summary
Wellington Saints: 114 (Corey Webster 31, Shea Ili 18, Leon Henry 17)
Canterbury Rams: 104 (Marcel Jones 32, Jeremy Kendle 26, Ethan Rusbatch 18)
Written by George Berry.
---