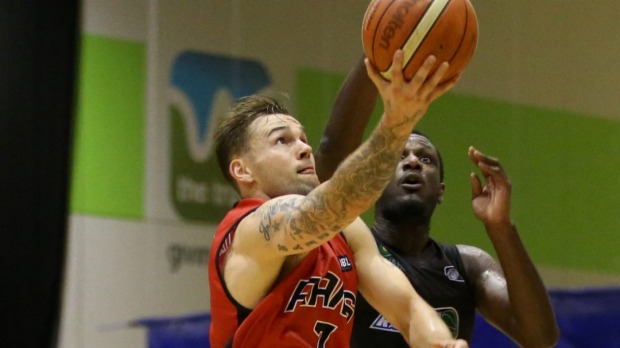 Canterbury Rams' coach Mark Dickel believes they've found a gem in American point guard Jeremy Kendle.
The 29-year-old Indiana native made a sparkling start to the National Basketball League season as the Rams split their away double-header.
Canterbury were beaten 114-107 by the Super City Rangers in a high-tempo clash in Auckland on Saturday, but recovered to topple Hawke's Bay 99-87 in overtime in Napier on Sunday.
Kendle showed he will be an NBL MVP and league leading scorer candidate, pouring in 39 points, 10 rebounds and five assists against the Rangers and adding 31 against the Hawks, including 11 in overtime.
The Rams might have worried how they would replace outstanding American guard McKenzie Moore, last year's NBL MVP, who is playing professionally in Greece, but in Kendle they look to have found a class act. Kendle played the last part of the Australian NBL season with the Brisbane Bullets.
"Jeremy is super talented. He can score the ball and the game is easy to him," Dickel said after the Hawke's Bay game.
"He's a big time talent. He's definitely someone that can play in Europe, Euroleague. He's a really good player."
Dickel was much happier after the Hawke's Bay game after giving up an alarming 114 points against the Rangers. The Rams struggled with their transition defence and allowed too many easy baskets.
Canterbury won the overtime period 16-4 with Kendle scoring 11 points, regularly driving by the Hawks' defenders and hitting lay-ups.
The Hawks, who went 0-18 last season, will be more competitive this season with an improved roster.
They would have been kicking themselves with experienced guard Everard Bartlett failing to convert his free throw with 23 seconds left after being fouled while landing a successful three pointer, which made it 83-83.
Forward Marcel Jones, who was a standout for the Rams with 33 points, 10 rebounds and four steals, had a deep three attempt to win the match at the buzzer, but couldn't hit.
Dickel praised his side's resilience and composure in overtime, given they'd played the night before.
"We stuck to what we were trying to do from the start of the game in overtime. It was the only period, where we consistently gave the focus on the defensive end that we needed to.
"That was pleasing to get four or five stops in a row. The whole game we weren't able to do that."
Dickel was disappointed Canterbury allowed the Hawks back into the contest after surging ahead by 10 points [55-45] early in the third quarter.
He warned there wouldn't be many easy games in this season's NBL and said the Hawks commanded respect.
"People will see Hawke's Bay are no better or worse than the [Rangers], or no better or worse than us. It's going to be a very even competition.
"People view Wellington or Southland as having a team that's going to run all over everybody. It's just not going to work like that once the season gets underway and everybody plays a few games. It's going to be a dog fight."
Jones limped off the court late in overtime, but Dickel said it was just cramp and nothing to worry about.
He hoped co-captain Ethan Rusbatch, who missed the road trip with an ankle sprain, will be fit for their next match against Wellington at Cowles Stadium on Thursday.
Dickel described Rusbatch as "the rock" of their team and was wary about rushing him back, having had ankle issues himself in his playing career.
Full article on Stuff – http://www.stuff.co.nz/sport/basketball/90562817/jeremy-kendle-makes-sparkling-start-to-canterbury-rams-career
---