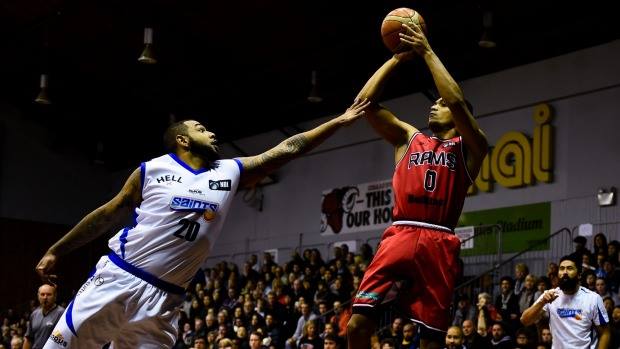 Following one win and a loss over the weekend in back-to-back action, the Canterbury Rams are gearing up for a big match against the Wellington Saints at Cowles Stadium on Thursday night.  Both the Rams and Saints were 2 of the original teams when the National Basketball League began in 1982 and share a rich history of success, sharing 13 National Basketball League titles between them.
The Rams, last year's regular season champions & Saints, last year's overall NBL champions are pre-season favourites and this match-up will have important playoff implications.
Canterbury Rams Captain Marques Whippy will be hoping his side can capitalize on outscoring the Hawkes Bay Hawks 16-4 in overtime on Sunday after strong performances from Marcel Jones and Jeremy Kendle on the weekend. The dynamic duo combined for a mammoth 105 points in their back-to-back games over the weekend. Jones also has been contributing on the rebounding side of things having over 15 rebounds in the first 2 games.  
The Rams played without Tall Black & NZ Breaker Ethan Rusbatch over the weekend and his injury will continue to be evaluated throughout the week.
The defending champion Wellington Saints bring a strong side to the Garden City, packed with former and current New Zealand and Breakers representatives. Corey Webster has been a long time New Zealand Breaker and Tall Black as well as a one-time trialist for NBA team New Orleans Hornets. Webster scored 29 points in the Wellington Saints opening 107-84 victory over the Hawks.
Webster will be the Rams' biggest threat, as well as New Zealand Breakers Jordan Ngatai & Shea Ili, Forward Leon Henry and Melbourne United's Tai Wesley who are also lacing up for the grudge match.  
Another interesting matchup of backup point guards is Rams Quinn Clinton (CBHS) & Saints Isaac Letoa (Westlake Boys). Both Quinn & Isaac are team mates for the New Zealand U19 who recently qualified for the U19 World Championships in Cairo in July.  The road to the World Championship for these young men come through beating Australia for the first time in U18 Oceania qualifying history.
Clinton is the captain of the New Zealand U19 team and has been part of the Mainland Eagles Academy which is coached by Rams head coach Mark Dickel & Wildcats coach Lori McDaniel. The Academy supports young players from throughout the South Island in achieving their dream of a US college scholarship. Clinton has recently committed to the University of New Mexico Lobo's and will be beginning his US college career in August, 2017.
Additionally, the teams will also be playing for The Huntly-Gordon Trophy. The trophy, named after Clyde Huntley, arguably one of the best to wear the Canterbury Rams jersey, and Tall Blacks legend, Gilbert Gordon.  Both Huntley & Gordon played for both the Canterbury Rams & Wellington Saints.
Rams Coach Mark Dickel and Saints Coach Kevin Braswell are just as well recognized within the New Zealand Basketball community. Dickel, a former Saints and Otago Nuggets player, and Braswell, a former Southern Sharks player who played in various countries have had well established careers, and will bring their expertise to the drawing board come Thursday.
Without question, the trophy adds an extra element of fierce competitiveness to the game, and both teams will be scrapping their way through 48 minutes of quality basketball from 7pm this Thursday in the hopes of getting their hands on the silverware.  The Rams will then travel to Nelson on Saturday night before coming home to Christchurch to have a re-match with Lindsey Tait & Dillon Boucher and the Super City Rangers on 31st March at Cowles Stadium.
There are a limited number of tickets left with a handful of bronze and gold seats remaining.  Silver seats allow fans to watch the game courtside with the best view of the game at an affordable price. Season & mini season memberships are available and will be available until the game sells out.  BBD (Barnes Beagley Doherr) are the Game Day sponsor.
Tickets are on sale at https://nz.patronbase.com/_RAMS/Sections/Choose?prod_id=1701&perf_id=1
Rams Partners
2017 Canterbury Rams Team Roster-
#0 Rambo
#1 Marcus Alipate
#2 Quinn Clinton
#3 Marcel Jones
#6 Hamish McDonald
#7 Jeremy Kendle
#8 Mike Karena
#12 Ethan Rusbatch
#13 Tohi Smith-Milner
#23 William Neighbour
#25 Derek Albertsen
#34 Gareth Dawson
#43 Ben Williams
#44 Marcus Whippy
Head Coach – Mark Dickel
Assistant Coach – Ben Sheat
Assistant Coach/Performance Analyst – Piet Van Hasselt
Manager/Strength & Conditioning – Grant Robertson
Physio – Lidia Belles Escrig
Wellington Saints Roster
Saints
#0 Shea Illi
#2 Isaac Leota
#3 Jackson Stubbins
#4 Nico Buckrell
#6 Theo Johnson
#7 Damien Ekenasio
#8 Josh Duinker
#9 Corey Webster
#10 Jordan Mills
#11 Jordan Ngatai
#15 Leon Henry
#20 B.J Anthony
#21 Elliot Stubbins
#42 Tai Wesley
Head Coach: Kevin Braswell
Assistant Coach: Zico Coronel
Team Manager: Phil Hartley
Written by George Berry.
---