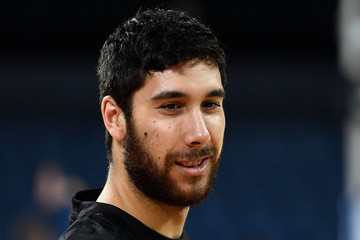 CANTERBURY RAMS SIGN TOHI SMITH-MILNER
The Canterbury Rams are pleased to announce the signing of 6'9 forward Tohi Smith-Milner. Tohi Smith-Milner is currently playing for Melbourne United in ANBL and the 21 year old has already represented New Zealand playing for the Tall Blacks and junior National teams Tohi, a West Aucklander, brings his unique skill set to the Rams this season. Smith-Milner's ability to play became clear when at the at the age of 15, played a big part in Rosmini College's NZ Secondary Schools National Championship team. Later on earned a scholarship to the US to play college basketball at Polk State Junior College in Florida. He averaged 12.8 points, 6.5 rebounds, and 1.4 blocks per game. After just playing one season, he chose to pursue his professional career. Tohi played for the Tall Blacks against South Korea in preparation for the 2014 FIBA World Cup.
Smith-Milner isn't new to the NBL, in fact, the forward has played with the Supercity Rangers and the Auckland Pirates. As an 18 year old he averaged 12.7 points & 4 rebounds a game for the Supercity Rangers in 2014. After doing well in the league and the US, he caught the eyes of scouts in Australia and signed as a development player in Melbourne. According to head coach, Mark Dickel, "Tohi is just scratching the surface of his potential. The future is really bright for him. He fits perfectly how we want to play." Smith-Milner is one of the best young up-and-coming forwards in New Zealand. Tohi's ability to rebound and run the floor will complement the Ram's up-tempo style of play that got the regular-season champs title in 2016. Tohi has been developing his game at Melbourne behind 4-time Australian Olympic team member and NBA draft pick, David Andersen. Tohi is on his way to follow the footsteps of not only David, but his Rams teammates Ethan Rusbatch and Mike Karena who both played for the Tall Blacks in 2016 Rusbatch and Karena were the first Cantabrian Tall Blacks since Jeremy Kench wore the black singlet in 2010.
In bringing back the Rams organisation in 2014 it was a goal to provide a pathway for young up and coming talent to develop their craft to have success playing in US college and professional careers either here in New Zealand or abroad. Smith-Milner joins a very strong core of Rams who are already signed on for 2017. This core includes returning players Marques Whippy, Ethan Rusbatch, Marcus Alipate, Mike Karena, Quinn Clinton & Josh Petermann and recently signed American import Jeremy Kendle. The Rams now have 3 Australian National Basketball League players including Ethan Rusbatch (NZ Breakers), Jeremy Kendle (Brisbane Bullets) & Tohi Smith – Milner (Melbourne United). The team is expected to round out their playing roster to 12 over the coming weeks. The first home game for the Rams is against traditional rival Wellington Saints on March 23rd, 7pm at Cowles Stadium. The teams will be competing for the Huntly – Gordon Trophy (Clyde Huntley and Gilbert Gordon played for both the Saints and Rams). The Rams & Saints rivalry is the best in the New Zealand National Basketball League with the Rams having won 4 NBL Championships and the Saints having won 9 Championships. Season & Mini-Season Memberships are currently available and a limited number of individual game tickets will be made available later this month
Season & Mini-Season Memberships are currently available and a limited number of individual game tickets will be made available later this month. Get your season tickets before February 20th to guarantee your same seats and to get an exclusive lanyard for the games!
Season tickets link: https://nz.patronbase.com/_RAMS/Productions
---