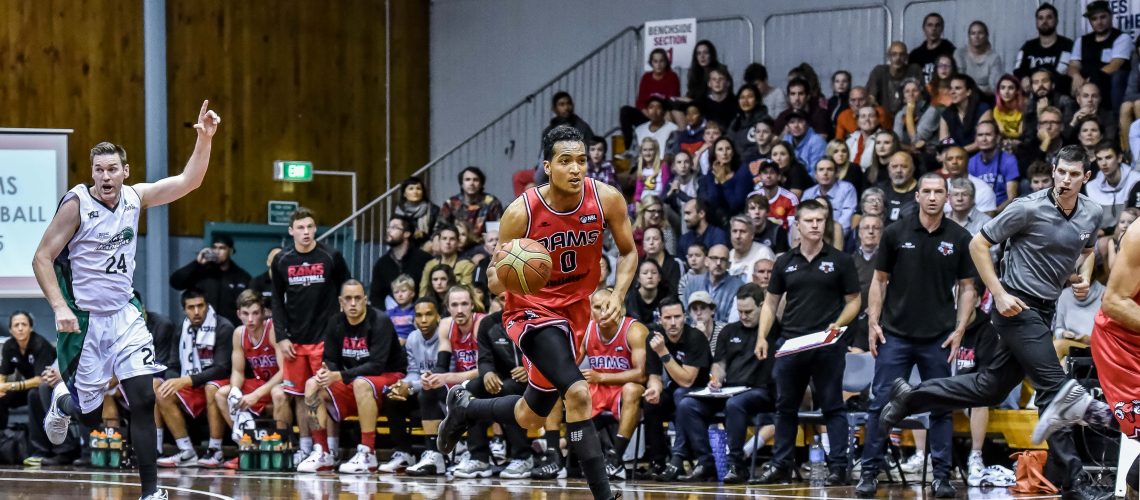 Unfinished business. That's what's driving Canterbury Rams forward Marcel Jones in this year's National Basketball League (NBL).
The 31-year-old American-born player, who has New Zealand citizenship, can't get the bad taste of the top-seeded Rams' semifinal loss to the Supercity Rangers last year out of his mouth.
"I just really didn't like the way it ended last year," Jones said. "I just feel like there is some unfinished business to take care of."
Jones was recently playing for the Helios Suns in Slovenia, but when their season came to a premature end, he jumped at the chance to join the Christchurch-based team for a third season.
He helped the Rams split their opening road games – an 114-107 loss to the Rangers and an 99-87 OT win against the Bay Hawks – pouring in 55 points and adding 18 rebounds over the weekend.
His early season form shouldn't come as a surprise. After all, Jones is the reigning NBL New Zealand MVP and most outstanding forward.
In the next step towards getting back to the playoffs and closer to redemption, Jones and the Rams will host the defending champion Wellington Saints at Cowles Stadium in Christchurch on Thursday night.
"It's always fun to play the top teams and see where we're at. But they've got to come and play us in our home," Jones said.
"We're just really focusing on getting better week-by-week and hopefully making the playoffs and having a better performance than we did [last year]."
n addition to making up for last year's semifinal flop, a game the Rams lost 104-85 despite being raging hot favourites as the No1  seed, there is also the lure of the black singlet driving Jones.
Despite his stellar season a year ago – Jones averaged 23.1 points and 9.5 rebounds per game – he wasn't picked by Tall Blacks coach Paul Henare for the FIBA Olympic qualifying tournament last July.
Jones said making the Tall Blacks was a goal of his again this season but, like last year, plans to concentrate on the Rams.
"I feel great, I feel like I'm still improving," Jones said. "But those things aren't up to me.
"All I can control is how hard I play here at the Rams. I can't worry about it too much. I just want to let my play speak for itself."
Jones, who has played all over the world, including Syria and Bosnia, said his recent stint in Slovenia was enjoyable, but he was "excited" to be back in Christchurch and attempting to bring a fifth NBL title – and first since 1992 – to the city.
"It's somewhere that I know. I could have gone anywhere, but it just felt like the best place," he said.
The Rams are sweating on the fitness of co-captain Ethan Rusbatch for Thursday's game. He missed the team's first two games with an ankle sprain and will be a match-day decision.
The Huntly-Gordon Trophy, named after former Canterbury and Wellington players Clyde Huntley and Gilbert Gordon, will also be up up for grabs against the Saints, who throttled the Hawks 107-84 in their season opener in Wellington last week,
AT A GLANCE
What: National Basketball League
Who: Canterbury Rams v Wellington Saints
Where: Cowles Stadium, Christchurch
When: 7pm tip-off.
Full article from The Press at – http://www.stuff.co.nz/sport/basketball/90711383/canterbury-rams-forward-marcel-jones-is-back-with-nbl-vengeance-on-his-mind
---