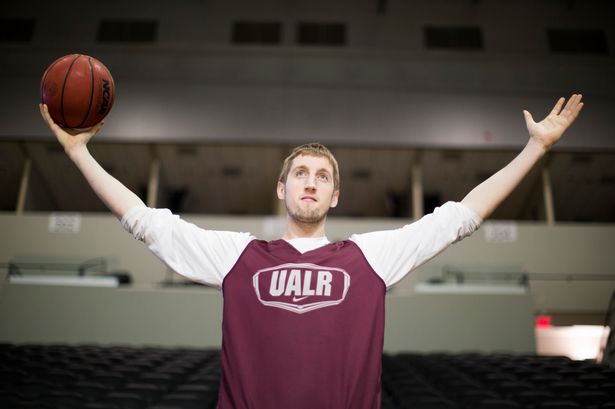 The Canterbury Rams have sprung a surprise by signing an English big man, who is a competent outside shooter, as their second import.
Centre-power forward Will Neighbour, who most recently played for the Surrey Scorchers in the British Basketball League, will take the court in year's National Basketball League (NBL).
American imports are the norm for Kiwi NBL sides, with the odd Australian player also featuring. Englishmen are more prevalent on the national league football pitch, rather than hardwood.
The 26-year-old Neighbour, who is 2.08m tall and 102kg, played collegiately in the United States at The University of Arkansas at Little Rock, where he averaged 16 points per game and just under seven rebounds in his senior year in 2013-14.
Neighbour became one of just five Arkansas-Little Rock players in history to achieve 1000 career points and 500 rebounds.
He played in Spain and Sweden after finishing college and has been with the Scorchers over the past two seasons, putting up 15.8 points and 5.3 rebounds per game during 2016-17.
Rams coach Mark Dickel indicated last week they were targeting an import in the Australian NBL for their second overseas spot.
American point guard Jeremy Kendle, who played for the Brisbane Bullets in the ANBL this past season, is Canterbury's other import.
Dickel said they "didn't get close" to signing anyone else from the ANBL and cast their net further afield. Neighbour is a talented outside threat and Dickel believed he would help stretch the floor and make it easier for their other shooters.
The Brit might be considered something of an unconventional signing by NBL standards, but Dickel reckoned he would be a handful.
"He'd be a surprise for people on this side of the world, but if you speak to people in America about him, they could tell you who he was.
"If he comes out here and plays the way he's capable of, he can play anywhere [in the world]."
Neighbour previously trialled with Melbourne United in the ANBL. Dickel said he had a "unique skill set" and would make an impact in the low post and from the perimeter.
He will likely compete for minutes at centre with the experienced Marques Whippy and young Kiwi big Tohi Smith-Milner, who can switch between the forward spots and the five.
Centre Mike Karena, a fringe Tall Black, who impressed for Canterbury last season, will join the team midway through the NBL after he finishes up in the Spanish third division.
Dickel said Neighbour fitted the style of basketball they wanted to play, where they had multiple options from the outside.
"You're either a big man, who can post up, or you're a perimeter player that can guard the other big men. I think he can do a little bit of everything."
Canterbury, who lost in the semi-finals last season, tip off their campaign away to the Auckland-based Super City Rangers on March 18.
AT A GLANCE:  
Rams' confirmed players: Ethan Rusbatch, Marques Whippy, Marcus Alipate, Mike Karena, Jeremy Kendle (US), Will Neighbour (England), Tohi Smith-Milner, Josh Petermann, Quinn Clinton, Hamish McDonald.
Click here for full-article from Stuff: http://bit.ly/2kOkYAa
Individual Tickets are on sale now, click here to get your tickets: http://rams.org.nz/limited-number-of-rams-individual-game-tickets-released/
---